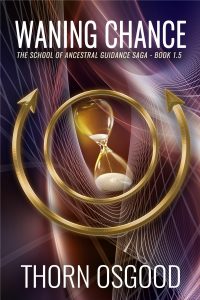 When the government discharges a nuclear weapon in Charleston, South Carolina, life in the US is forever changed. Paisley, her brother Ramsey and friends, Amada and Choon, walk away from all they have known.
Meanwhile, Sam Battles sets out to make the government pay for their actions and crosses paths with Paisley and friends in an unexpected meeting.
When Paisley discovers communication devices, her plans change.
Get the eBook at your favorite eStore
---
"Futuristic sci-fi meets environmental devastation. Anyone with an interest in environmentalism will enjoy reading this fast paced, well written thriller." –Kristina Gemmell, Beta Reader
"The sky-high stakes, varied POVs, and insight into the rough side of human nature make Waning Chance compulsively readable. This tension-filled tale of Earth's last days will leave your fingers itching to pick up the next volume." –Nicole M., Beta Reader
---
Save
Save
Save
Save
Save
Save